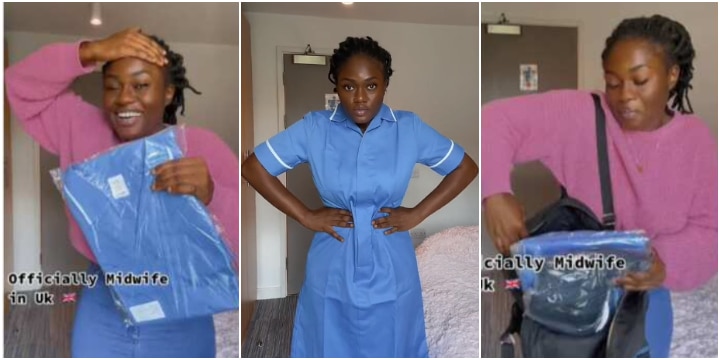 Lady over the moon as relocates to UK, becomes certified midwife, shows off her blue uniforms (Video)
A young Nigerian lady, who relocated to the UK in pursuit of a better future, has realized her dream of becoming a certified midwife (nurse).
The triumphant moment was captured on TikTok, where she danced with exuberance after passing her medical exams.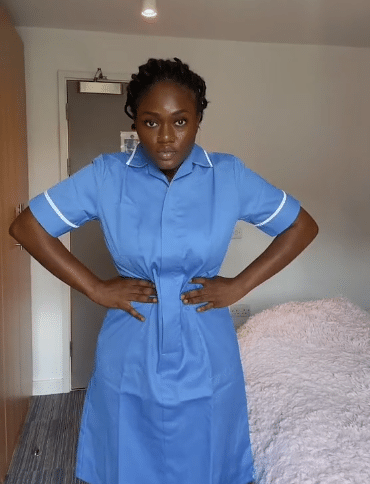 @everythinganima, shared her remarkable achievement with the world in a heartwarming video that has since gone viral.
The video showcases her wearing her newly acquired blue nursing uniform and radiating pure joy and gratitude.
In the TikTok video, @everythinganima can be seen dancing joyously, giving all glory to God for her success
According to data from NHS Professionals, the yearly salary for midwives in the UK ranges from £28,407 (equivalent to N27,768,449.61) to £35,392 (equivalent to N34,596,436.39).
Netizens Reactions…
@serwaalynn said; "Everyday with God is everyday in victory."
@lotty451 said; "I will keep clapping for people till it's my turn. Congrats girl."
@bel said: "Am a student midwife and l tap into your blessings."
@Adwoafirstborn said: "I tap into your blessing I am a midwife too but I never knew we can also work in UK as midwives."
@CallmeMimmie said: "l tap into this reality, l am an aspiring healthcare professional, upgrades are necessary."
@Callmhimiss said: "Congratulations dear..Everyday with God is every day in Victory."
@_queenie.ee_ said: "Everyday with God is everyday in victory."
@JenniferEdu said: "Everyday with God is everyday in victory."
@Toyin said: "Congratulations….hope to get mine soon."
@Nanayaa Asare said; "Congratulations to you……Will keep praying and hoping for this for my sister too."
@user6458145762081 said: "How long does it take through the students routes."
@sevenyardgeng051 said: "Congratulations, you deserve it cus cute Ladies need to be paid."
See below;
@everythinganima

Continues Sleepless Night to learn. I hate exams since what God of Alpha hour has done 🥹😍🥰