Lady cries as good Samaritan gifts her provision store filled with goods
A good samaritan identified as JoJo of Lele has been hailed online after she gifted a young lady a provision store filled with goods.
A video shared on Instagram showed the good samaritan leading the young girl to the shop and was seen asking her to take over the provision shop including all the goods inside.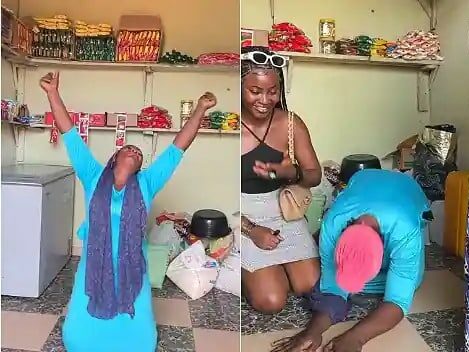 The young lady who was shocked at the news jumped up and screamed out of excitement after the woman handed the keys to the provision shop to her.
The lady expressed her gratitude while showering the good samaritan with praises and blessings.
The woman who gifted the provision shop to the lady took to her Instagram page and captioned her post, "I gifted this woman a shop full of goods and her reaction will melt your hearts."
Social media users have praised the woman and blessed her.
@jay_strands said: "God! Reaching people like this has been my dream don't stop! Is well."
@ahmedtaofeek590 wrote: "Hmmmm this is so lovely I can understand and I pray you he happy too insha Allah."
@assiddiqyy_asileke1 added: "It shall be well with u my sister I was crying the way am watching it I don't know what to say u do good."
@brainie7 reacted: "How can I like this a million times, for the very first time I believe that people genuinely bless people online..God bless you in all ramifications."
@apostleasiwaju1 added: "From today I must make sure I pray for u. God bless u for what u have done. Find a way to talk to me I want to tell u something very important."