Korra Obidi causes buzz as she dresses up on Instagram live (Video)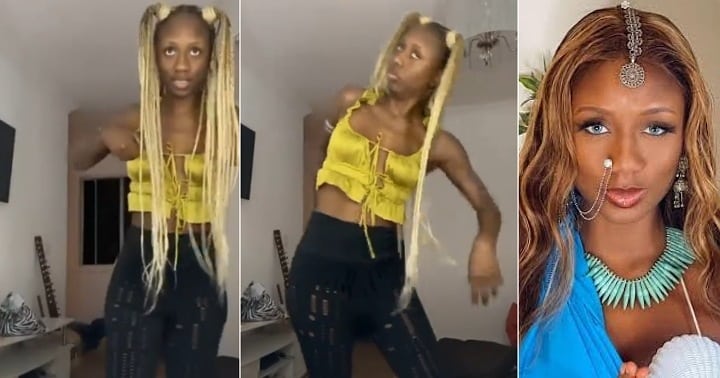 Korra Obidi, a Nigerian songstress and dancer, has sparked a frenzy on social media after dressing up during a Facebook live session.
In the live session, Korra Obidi was seen struggling to put on black trousers while wearing only panties.
The video went viral, and many netizens voiced their displeasure over her appearance.
One Facebook user, Lala Johnson, wrote, "You couldn't have your pants already on that was weird."
Watch the video below:
A few weeks ago, Korra Obidi accidentally flashed her panties during a Facebook live session with her elder sister, Nancy Umeh.
The two sisters were having a good time together, with Nancy Umeh braiding Korra's hair when the incident occurred.
Korra Obidi went to get some mangoes in the video, however, she was not conscious enough to maintain an appropriate position upon returning to the spot, which made her reveal her undies on camera.
The US-based dancer screamed in shock when she realized what happened, "Jesus, they saw my pant."
Korra Obidi's sister, Nancy Umeh, has been a great support system for her during these times. She cheered her up and convinced her that the incident was nothing to worry about. The two sisters have a great bond, and their fans love to see them together.