Khloe, Lolu and Leo celebrate Cee-C as she turns 27
BBNaija reality stars, Khloe, Lolu and Leo Dasilva took to Instagram to shower Cee-c with praises as she turns 27, today, 6th November.
Koko on her IG page, wrote
"C Y N T H I A
"Where should I start from now? "Deep breathe"… They say don't judge a book by its cover, I said a cover reflects what's inside. They replied, "As you grow older you ll understand "… they dint lie to me though cos you proved that point right (but they lied about adulthood lol).
"Meeting you was a blessing in disguise and I'm grateful…
"Our friendship is best example of "Not for the gram" cos if the media knows how much we hang, laugh, gist, eat (you eating my food) and fight like we'll never talk again but you always call back to say "I'm coming to your house, let's sort this" …shiiii, you are amazing…
"Most times I wanna break your head but the love I have for you overshadow your madness lol.
"I love you baby gyal and that's a fact… keep being you, the whole world ll adjust.
"In your father's voice "when a fruit is ripe,
…..,? Let me not complete it. (u know the rest ) .
"Anyways I love food and you are looking rice. Open your door, your neigbour is here for the cake lmao
Bless you my G.
"Peace, love and light"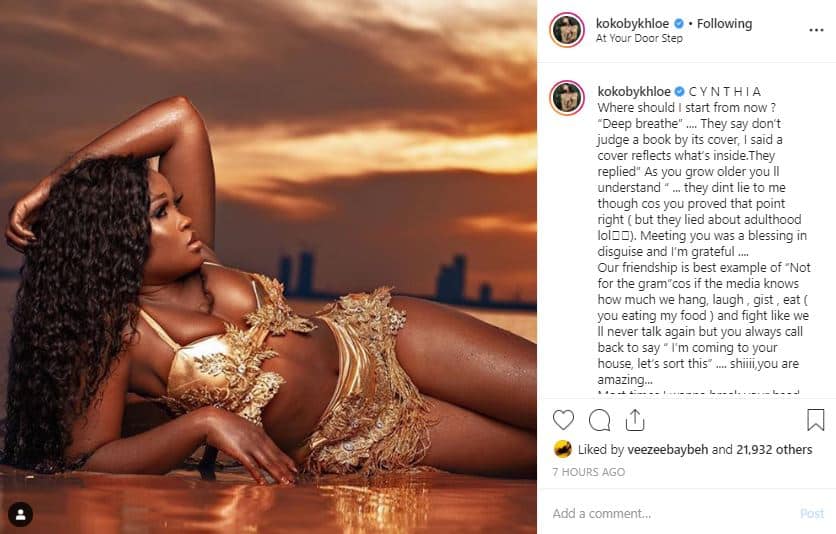 In the same vein, another ex-housemate, Lolu Shomuyima also wished Cee-C a happy birthday.
He wrote: "I am proud of you and how much you grown.
"Happy Birthday, Live Long, Love and Light as always.
"Cheers dear."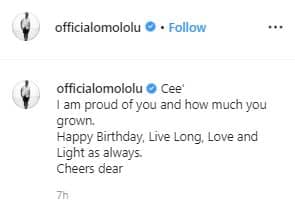 Leo Dasila also celebrated Cee-c on her birthday by sharing a photo of the reality star with the caption;
"A very happy birthday to you @ceec_official, Wherever your feet may take, whatever endeavor you lay hands on. It will always be successful. Wishing you long life, good health and prosperity.
Happy birthday.???"