Keke rider gets reward as he returns iPhone 14 Pro Max found in his tricycle (Video)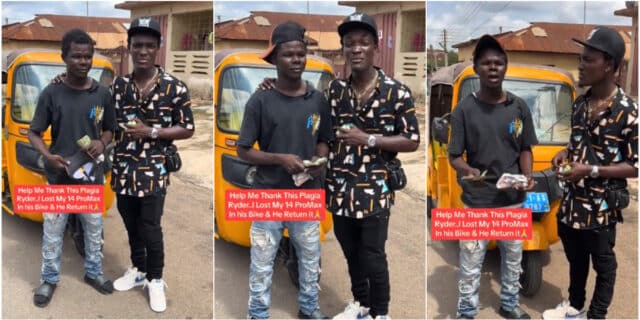 A young Keke rider in Kumasi, Ghana, has earned praise and recognition after he went above and beyond to return a passenger's iPhone 14 Pro Max.
The incident unfolded when a passenger, who had unknowingly left his valuable smartphone in the tricycle, was pleasantly surprised by the rider's integrity.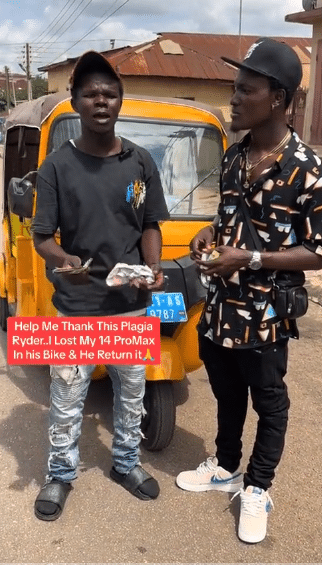 The passenger, who was understandably worried upon realizing that he had left his iPhone 14 Pro Max behind, decided to take action by calling his own number.
To his relief, the tricycle rider answered the call and, without any hesitation, agreed to meet the passenger for the identification and safe return of the lost phone.
The unnamed keke rider, a picture of calm and sincerity, humbly explained that his first instinct upon discovering the phone in his vehicle was to find its rightful owner and ensure its safe return.
As a token of gratitude and appreciation for the tricycle rider's integrity, the passenger generously gifted him ¢300 (equivalent to N20,128.82).
"I want to thank you for this reward. I have returned missing items found in my tricycle to their owners before, but many of them do not give me money, and some do not even say thank you. I am grateful for this," The keke rider said with joy.
Netizens Reactions…
@Puzor Junior stated; "I found Samsung S20 ultra in my Uber car . The phone was with me for 3days. After given him the phone he even wanted to arrest me"
@_ stated; "Because of your clean heart you will never lack in life Gagging Forever."
@Lionel Arena Gh said; "I remember last time i lost my heart in uber buh luckily the next day the driver brought it back to me if not anka hmmm waaa imagine."
@S A I F indicated; "This pragia guys in Kumasi are real good …they are angels."
See below;