Ghanaian actress, Haillie Sumney has weighed in on the recent yahoo boys controversy and according to her, Nigerians should keep 'Yahoo Yahoo' within its shores and not spread it to Ghana.
In her Instagram post, she wrote:
"Biko you ppl keep this your Yahoo Yahoo to yourself in Naija and not corrupt our Ghanaian Youths o."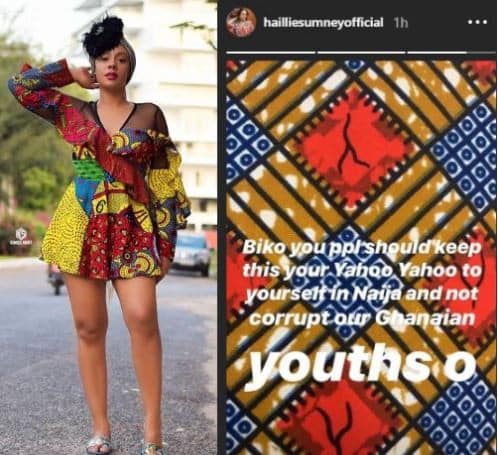 Recall that singer, Naira Marley sparked an outrage on social media after he urged Nigerians to pray for Yahoo boys.
In a video, he said:
"All you guys, all the money in your pockets, all the money you spend, you think it's the government that is making the money go round? You better sit down and pray for yahoo boys. If them stop yahoo, the money would not pass you guys", he said.
Naira Marley concluded by saying that without the internet fraudsters, money will only be circulating in the circle of the elite whose names he mentioned.
"The money will go like this, from Obasanjo to Tinubu, from Tinubu to Mr Japa, you think me I need Yahoo?
I make money from my music."