"I get paid to attend events 90% of the time"- Toke Makinwa claims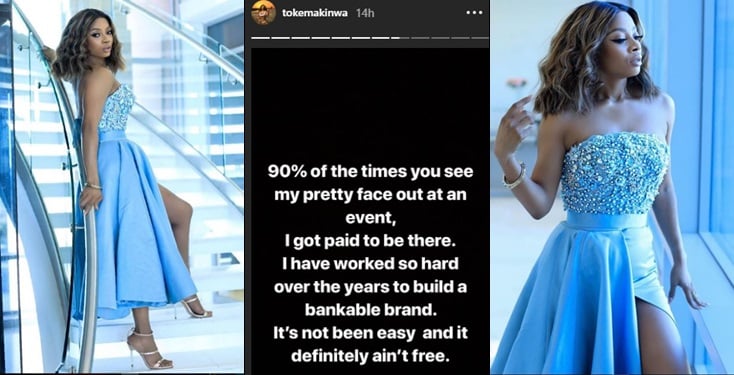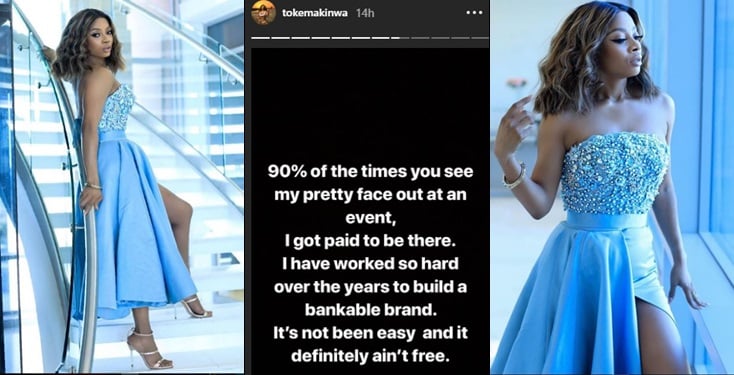 Nigerian socialite, Toke Makinwa is setting the records straight on her brand and her business. Toke took to her social media account to reveal some details on her business that might not be clear to people.
The media personality reminds fans that she gets paid to attend 90% of the events she is seen. She also stated she has over the years built herself a bankable brand and is only focused on building, sustaining and reinventing herself.
She shared on her Instagram stories;
This is not the first time she is making it known that she gets paid for appearances at events. She made a statement similar to this in 2016.
Just yesterday, Toke Makinwa slammed Bovi for joking about her backside she wrote;
Never done this before but there's always a first.
Dear @officialbovi First off, i actually don't even think you are funny, more like annoying. Making a joke about my ass was real cute but one thing my dear friend, my doctor is a Gee, he got it right the first time. Just so you know cos That's the shit that pissed me the fuck off!!!!! P.S,
You ain't shit
Signed
TM