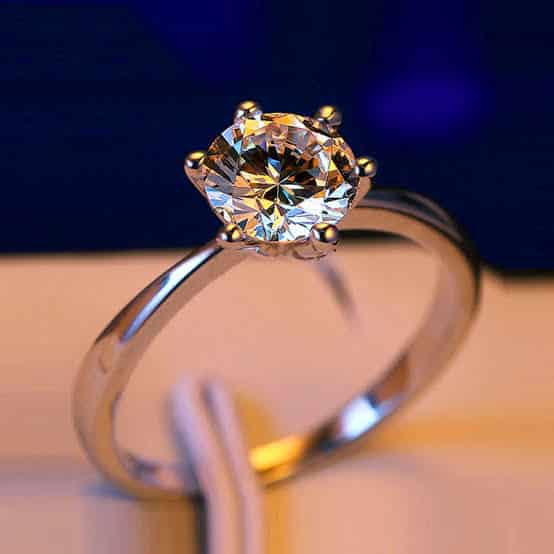 While finding a breathtaking engagement ring for their fiancé-to-be is every guy's dream, it works in your favor to impress your partner when you shop for an engagement ring that suits her finger, knuckle, and hand. Here's a complete guide on how you can find the best engagement ring based on your girl's finger shape and hand size.
●
How Can You Determine Your Hand Type?
If you wonder how to determine your hand type to find the right diamond and metal that combine to create an engagement ring that complements your hand, here's more on that.
❖
Hand Size
The average length, breadth, and circumference of an adult hand size is 6.8 inches, 3.1 inches, and 7 inches respectively. When you measure these dimensions of your hand and the result is greater than the average numbers, your hand is bigger than average. And when smaller than these measurements, they can be considered small. Identifying these dimensions makes it easier to find a ring that looks good on your hands.
❖
Skin Tone
Skin tone is of significance if you want to find gemstones and metals that look flattering on you. While rose gold is a metal made for all skin tones, yellow gold stands out if you have a pale complexion. White gold and platinum are an amazing choice for deeper skin tones and yellow undertones.
❖
Nail Shape
Choosing a diamond shape that's different from your nail shape is a good way to ensure your diamond ring suits your hands. Small round, oval, pear, and round diamonds are ideal for square-shaped nails. However, if you have pointy or rounded nails, you can go for Asscher, princess, emerald, and heart-shaped diamonds. Marquise diamonds look very flattering on people with short nails.
❖
Finger Length
Small round diamonds, princess and Asscher diamonds, and oval, pear, and marquise are a great choice if you have short fingers. However, longer fingers look great when sporting round, emerald, and heart-shaped diamond rings.
Best Diamond Shapes and Settings for Your Hand
While your preference in style and design of the ring matters as it reflects your personality, it is equally crucial to find an engagement ring that looks good on your hand. To help you make a wise buying decision, here are recommendations based on your hand type.
●
If Your Knuckle is Larger Than Your Finger, Then Try a Bezel Setting
A bezel setting is quite the rage as it has a unique combination of modern and old-fashion appeal. Numerous celebrities show off their exquisitely-made bezel rings, but regular shoppers are more interested in whether an engagement ring with a bezel setting would suit them. If you have larger knuckles, you're in luck. Bezel settings are a match for thin fingers with large knuckles as they create an illusion of uniformity, making your knuckles and fingers look proportionate. You can also go for a thicker band so that it grips your finger, which prevents it from sliding off.
●
If Your Knuckl
e is Smaller Than Your Finger, Then Try a Prong Setting
Finding the right ring for hands with smaller knuckles but bigger fingers can seem tricky, because the knuckles generally hold the ring in place, preventing them from sliding off. Therefore, buying a well-fitted ring helps keep it in place, while a prong setting is an ideal choice as smaller knuckles are made for minimalistic rings. Classic solitaire with a small-sized diamond and a narrow band is worth considering.
●
Rings
With
Upturned Prongs Will Appear Larger
If you want your ring to catch eyes, an upturned prong with a narrow band is the solution. Upturned prongs add a thick layer of metal around the stone, which gives an impression that the stone is larger than it actually is. The trick to making your ring actually look bigger is to choose white gold or platinum as your setting metal. That way, the color of the prong, the band, and the diamond look similar and this makes the diamond look large.
●
A Cushion Cut Is Great for Those Who Have Fat Fingers
If your fingers are chubby, you can work with a cushion-cut diamond to create a beautiful engagement ring. Cushion cut diamonds are in vogue and they're a perfect option if you want your ring to look significantly bigger. Fat fingers look beautiful in rings with a large and brilliant middle stone, which is where a cushion-cut diamond fits in. You can also go for a halo setting to create an illusion of a super-huge middle stone.
●
Pear, Heart, and Marquise Shapes Can Make Thin Fingers Appear Longer
If you have short fingers, opting for pear, heart, and marquise-shaped diamond rings can work in your favor to make them appear longer. Since diamonds in these shapes have an elongated shape, they seem to add more length to your fingers. For fingers that are significantly shorter than the average length, you can opt for pear-shaped diamonds as their round end on one side and tapered point on the other work great. A narrow band can further make your finger look longer.
●
For Large Hands, Try an Oversized Emerald Cut or
Asscher
Cut
Larger hands are perfect for flaunting over-the-top rings with bold and dramatic designs. You can confidently pick a large diamond and go for halo engagement rings with a huge middle piece and two rounds of encircling diamonds. Carat-busting diamond rings like a large princess and round-cut diamonds are your ideal pick for your large hands.
Bottomline
People often forget that buying an engagement ring is a special process when they focus more on their budget, given the significance it holds. While it is more common for people to wonder how much money should you spend on a wedding ring, another important question to ask yourself is – "will the wedding ring I choose suit her hand?". Considering this aspect not only makes shopping for an engagement ring a lot easier but also helps you find a ring that your fiancé would want to wear with confidence.