Hilda Baci fumes over alleged 'damage control' amid N25K meet-and-greet
Famous Nigerian chef, Hilda Baci expresses frustration at the reactions received after debunking the report of charging N25K for a meet-and-greet in Abuja.
Following backlashes that trailed a flier stating a meet-and-greet event with the chef in Abuja, she clarified that the reports were fake and an attempt to use her to scam innocent supporters.
However, following the tweet where she debunked the report, Hilda was met with unexpected reactions from netizens who suggested that her move was a 'damage control.'
A Twitter user identified as @CryptofixPro amongst others suggested that the chef backed out because of the backlashes.
"Damage control. What are they meeting and greeting you for?" the user wrote.
In response, Hilda Baci emphasized frustration despite efforts to clear her name and save people from a scam she knew nothing about.
She wrote, "If I didn't come out to say something y'all will say I let them scam people now I've come out to let you know it's not coming from me it's damage control 🤦🏾‍♀️🤦🏾‍♀️🤦🏾‍♀️🤦🏾‍♀️🤦🏾‍♀️🤦🏾‍♀️ how will do a meet and greet that I'm charging for and not post it on any of my social media platforms."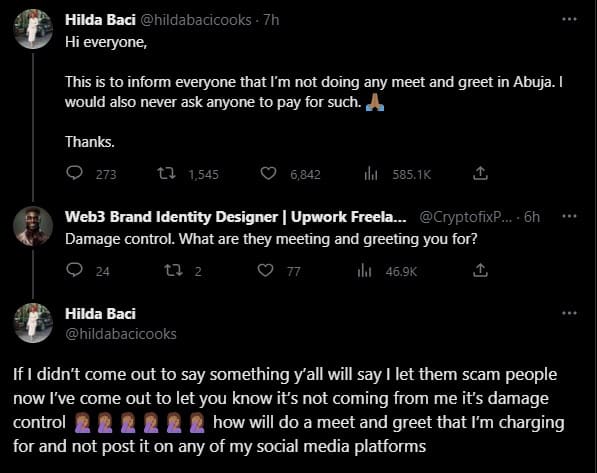 Reactions trailing Hilda Baci 's meet-and-greet debunk
Emperor11807228 said: "It s was true ….u change ur words bcos Nigerians are now hitting back to back werey"
zamaniisa865 stated: "Alaye rest, dem don cook u, u shamelessly cancel it anu"
princeudok opined: "What they even meeting u for …… Nigeria and unnecessary things"
TheMarlian said: "Mama don voice out say na Damage control"
hula_dennis stated: "But what will I go to meet you for? I didn't gain anything from your cooking record so nothing is special about that to me. Even Guinness haven't agreed that you have created any record."