"He looks so suspicious" – Man raises alarm over Mr Ibu's safety as he shares rare video from party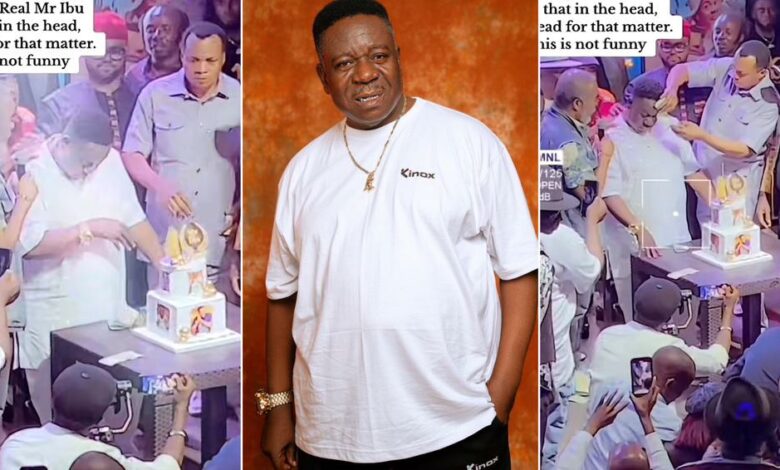 A young man has raised an alarm for Mr Ibu's safety as be shares a rare video from his 40 years celebration on stage.
The man identified as @02.star_signs on TikTok shared a video of a man spraying veteran Nollywood actor, John Okafor, popularly known as Mr. Ibu, with money in a suspicious way during Mr. Ibu's 40 years on stage celebration.
In the video, the man was seen spraying money on Mr. Ibu's head and forehead. Star signs expressed his disbelief, questioning the appropriateness of spraying a legend money in that manner.
He wrote, "Look at this video very well, is this right? How could someone be spraying Real Mr. Ibu like that in the head, forehead for that matter. This is not funny."
Netizens reacting in the comment section have expressed their concern, stating that if anything bad were to happen to Mr. Ibu, the man spraying the money should be held accountable.
@Samson&Anna commented: "If anything happens to Mr ibu make una hold that man."
@Barriga reacted: "Mr ibu village people dey see dat spraying as child's play, we no dey fear juju for Enugu state."
@mronedaycomedy32 said: "That man look suspicious."
@BobbyTech reacted: "Mr Ibu sef no be ordinary man."
@DEQUEEN BUNT DO said: "His evil plans will return back to him."
@Girl Like Anna said: "If anything happens to me ibu, we will hold that man responsibly."
@carlidon20 commented: "That man is suspicious."
@Berrypiss.y reacted: "And he even suspected as d way he looked at d person."
@Joy Godwin reacted: "He did not spray all the money after touching it on his head."
@Big_Legacy3 reacted: "And una they tell me dat make I no be ritualist make the block come first."
@1-COF commented: "MR IBU you re highly protected by God Almighty. No weapon formed against you shall proper. Cos God has given u authority over principalities n power."
Watch the video below: