"Have you turned muslim now?" – Netizens fume over Nancy Isime fashion choice in Kano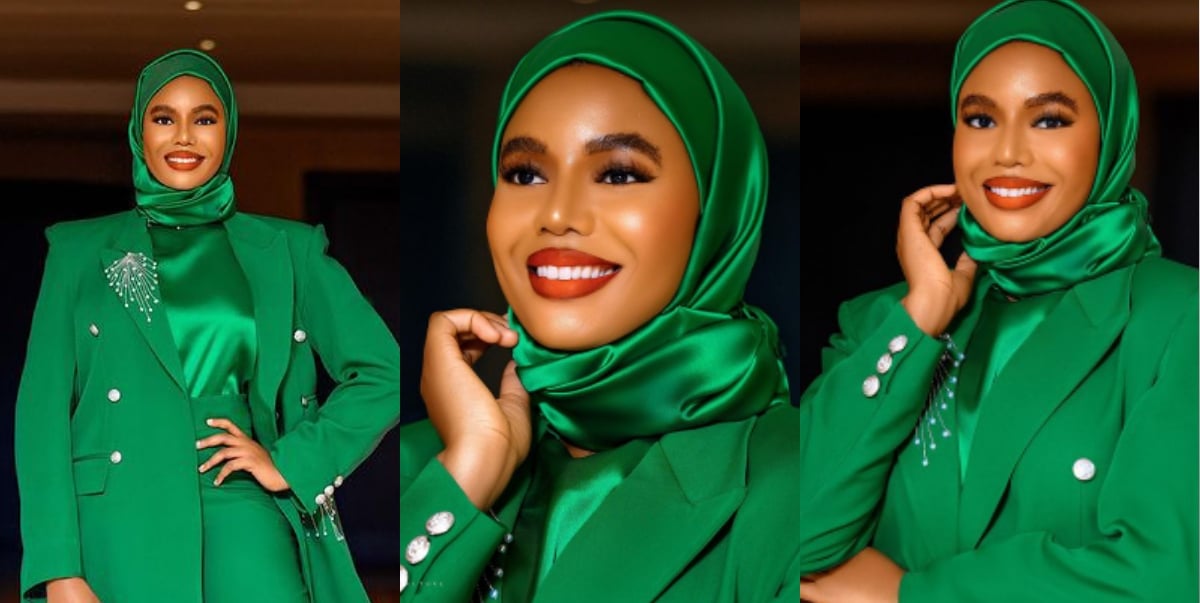 Nollywood actress Nancy Isime recently caused a stir on social media as she shared stunning pictures from her visit to Kano.
The popular movie star, known for her fashion-forward choices, caught the attention of netizens with her attire that blended religion and style.
In the photos, Nancy Isime exuded elegance and grace as she embraced the Muslim culture, wearing a sparkling green suit and a matching hijab.
The outfit, designed by the renowned Medlin Boss, accentuated her beauty and showcased her fashion prowess.
Holding a lovely handbag, she struck poses from various angles, captivating her followers. However, it wasn't just her fashion that captured attention.
Nancy Isime took the opportunity to express her excitement about visiting the Viva Plus Detergent/Aspira Nig factory in Kano.
"Today, I finally got to visit my dearest @vivaplusdetergent / @aspiranig factory in Kano, and I was beyond impressed! #ProudVivaDiva. Content of my visit coming right up! . In the meantime, how do you like my @medlincouturecollection ensemble for my official visit?," she wrote.
Accompanying her Instagram post, she asked her followers how they liked her ensemble from Medlin Couture Collection for her official visit.
The pictures sparked reactions among netizens, igniting a discussion about the intersection of religion and fashion.
See below;
Reacting…
One user @officialjet11 wrote; "Have u now turn Muslim, Muslim person will never dress as Christian even when she come to ur home, try be urself and stop selling ur pride."
Another user @ramsey_ng added; "This is why the north deserved to have their own president, at least people will adhere to their rules and ethics by dressing appropriately and obeying their rules and regulations in respect of their culture and religion instead of using their own affairs to affect the rest of the world due to their own beliefs.
@delaniaai reacted; "Wow It will be very nice If u become a Muslim❤️ @nancyisimeofficial u are looking so beautiful in that hijab." nursem.o: "Beautiful MashaAllah ."
@jemimaosunde added; "The empress of Kano for real for real ❤️❤️❤️ they LOVE YOU!!!! So much! We allll love youuuuuu."
@kingevers_joy commented; "Please I don't mean to I sell vitamins and Suppliments oo you look beautiful btw Nancy it's not new, you always look breathe taking."