'Your Dad regretted the night he fired your Mum and had you'- Frank Edoho loses cool on Twitter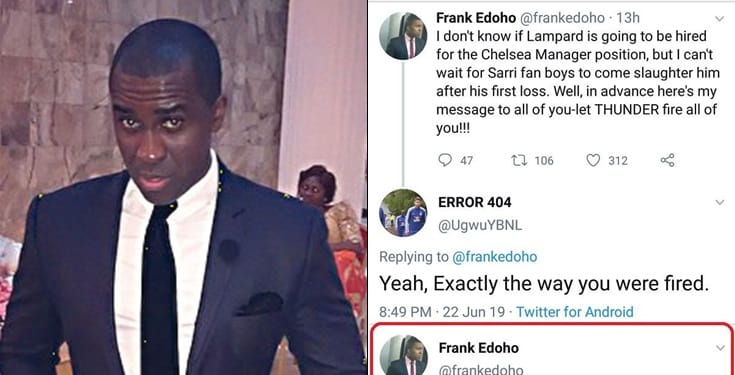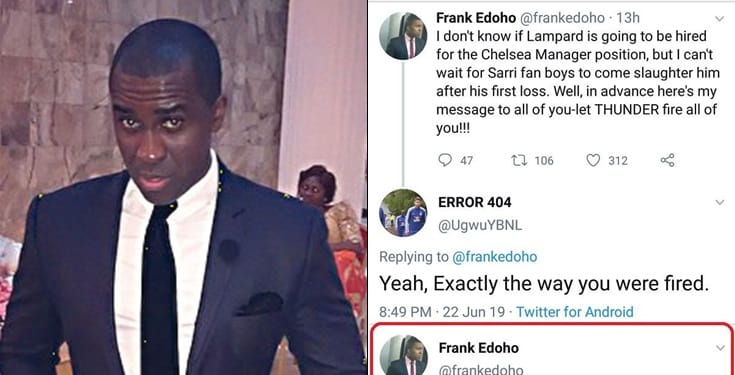 Popular television presenter, Frank Edoho on Saturday lost his cool and engaged in virtual fisticuffs with a troll who insulted him on Twitter.
Edoho, who is a Chelsea fan, had made an observation about the managerial position of his favourite club.
He tweeted:
I don't know if Lampard is going to be hired for the Chelsea Manager position, but I can't wait for Sarri fan boys to come slaughter him after his first loss. Well, in advance here's my message to all of you-let THUNDER fire all of you!!!

— Frank Edoho (@frankedoho) June 22, 2019
But a troll who did not agree with his observation, shot back, claiming that Edoho was "fired", in apparent reference to the presenter's ouster from the popular Who Wants To Be A Millionaire television game show.
Edoho would however not take the personal jab lying low, and went out to rain insults on the troll.
See tweet:
Edoho presently hosts another television game show, The Price Is Right Nigeria.
I have never been fired in my all life. Conversely, people that allowed me leave their employ have regretted it, the way your Dad regretted the night he fired your Mum and had you. https://t.co/LWbDWsMJFF

— Frank Edoho (@frankedoho) June 22, 2019