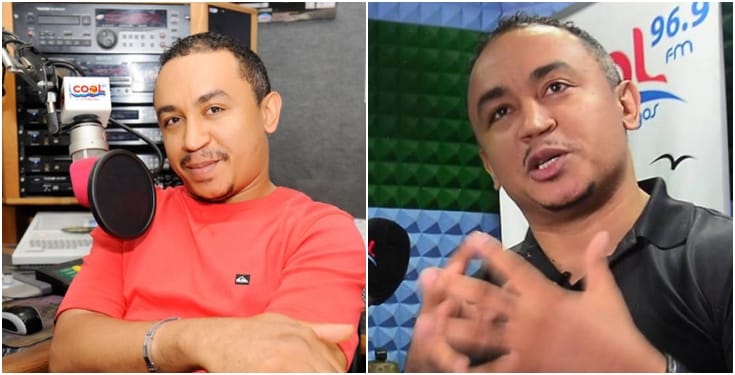 It seems this is the calling out season as Veteran journalist and former Cool FM broadcaster, Princess Imikan "Mikky" Attah, has called out popular On Air Personality, OAP, Daddy Freeze, in a very lengthy post, and described him as a hypocrite.
Attah, in a piece she forwarded to Daily Post on Friday about the controversial broadcaster, said she personally interviewed Freeze the first time he was employed by CoolFM.
Mrs Attah said she was saddened that Freeze's marriage was a horrible one and that the OAP fought with his wife physically in the presence of their innocent, beautiful children.
According to her, "Cool FM 96.9 Radio was the first fully digitalized radio station in the country, attracting American staff recruited directly from the US who came into Nigeria on contract to work at the new station. I was happy and proud to be a recruit from Metro FM Lagos – after heavy weights like Ibrahim Abubakar ("The Loveman") had successfully been poached from Rhythm FM; which was the King of the airwaves then.
"In no short time it became my turn, as head of a department to recruit new intakes too. I am glad to say I auditioned Mr Ifedayo Freeze Olarinde, Daddy Freeze.
"Now Freeze was, is a born natural, and he was practically made to be an OAP. In fact his auditioning was a mere industry formality, and in our informal but business-like office setting, it took just a thumbs–up to the then DMD, Chris Ubosi to have Daddy Freeze employed.
"Freeze (he even came with the name) is a most personable guy, a wonderful, warm fella. He is a totally great guy. He's smart too. A few newcomers gave some headache (rewinding stuff on air and other crazy blunders) but Daddy Freeze had some experience in a smaller station in Ibadan before he came on board. More importantly, he's a model worker, not a slacker, he wasn't a latecomer; very approachable and likeable, and just a brilliant guy.
"I think he started in 2001, about a year after me. He was a fresh graduate and so his was a conversion to youth service/full service. Then the following year, we were invited by him to Ibadan for… his wedding. He revealed that he and his lady had been childhood/college sweethearts and had decided to tie the knot. It was a nice small wedding with his Romanian mother and Yoruba father, and his lady Ope Oni's family present as well as other friends and colleagues.
"Daddy Freeze and the very pretty Ope were clearly in love. However, they were really young, the bride was 19, I'd say 20 and Freeze was about 21. I would give a margin of plus 2 years tops, for the two of them. As a wife of my friend, I became casual friend with the lady; I called her on the phone averagely once a year. I remember once Freeze also let me listen in to their private conversation, unknown to her, the phone was on speaker and I listened to the end. The one loved the other, and I found them an admirable pair. They were also committed to their church.
"Now then: like you can see from my writing, I am totally opinionated – but it is always an informed opinion. Also, I submit to a superior argument, based on fact and logic, I cannot stomach hypocrisy.
"Lagos knew all this because I ALWAYS gave my opinion after giving the news, like a non-scripted news commentary. I dare to say that Lagos used to wake not just to my news – but to the news behind the news, plus my opinion. Immediately after that, ANOTHER 'straight-up' lady – TV show host Funmi Iyanda would come on TV for her weekday breakfast show, and from the outset, she would say: "Imikan said;, like Imikan said this morning etc. From there, talking points kicked in.
"So, with all humility and knowing that there were no 'social media influencers', I can say most definitely that I influenced Daddy Freeze. Same for Olumide Macauley, the Channels TV anchor who was then at Rythms 93.7Fm (because I was involved). And there were lots of other people I related to. I later started a sport NGO, and at its first outing, we had Supersports in Nigeria for the first time (they had NOT then started, in Nigeria). So Daddy Freeze was my person, he would spend long hours in the station on the computer, and just go on gisting. He is very good company.
"Daddy Freeze was to later straighten ME out on the business side of life, teaching me how to make my skills marketable, and not keep "paying my dues" all my lifetime! He was then hosting the Coca-cola Millionaire Show on TV .After I left Cool Fm, I saw snippets of Daddy Freeze and the FreeNation Movement, and the Free the Sheeple Movement, and I was happy for him. I was unsettled when I saw his post about his 'partner' – meaning the rumours of his marriage break-up were true. Greater was my shock when he posted his pictures after being "battered", as in domestic abuse while still married. Counter accusations kept flying (my ex-wife travelled out of the country with my kids without my knowledge). I couldn't help but wander – what role did their church play in preventing all this.
"Also, what was the role the couple themselves played? I've noticed that a lot of times when couples see that there is 'fire on the mountain', they seem to choose to keep feigning that all is well, rather than reaching out early for Godly counsel. Their first thoughts are to "please" society and 'keep' the marriage; but they do nothing new whatsoever, towards the 'keeping.' I am not 'active' on social media and so I missed a whole lot – but a certain man came out very publicly to announce that his wife was living illegally with Freeze, even while legally married to him! I was totally shaken, and reading further, I saw that the man said his wife had left their base in Port Harcourt and had relocated with their 4 children to Lagos. She had sued him for divorce and was living with Daddy Freeze!
"I am sad with myself I adjudged this as personal, and kept completely quiet. But now that my newsapp bombards me with Freeze reacts to …. Freeze reacts to…. every single time, I feel I have to speak to him, IN LOVE, and as a friend. From all responses I have seen, Daddy Freeze brooks no contrary opinion. But as one who knows him, I can also speak what's true to him. I suppose I could get his personal contacts for a one – on – one. But then that will rob a lot of people of knowledge, people who react based ONLY on what they read, who do not have the benefit of the true picture of Daddy Freeze I have painted. Many more people could benefit from this.
"Daddy Freeze. Firstly, I had to do a bit of a search for this piece and I was pained to read how, in doing a certain '10 year challenge' you said 'I was in a horrible marriage… I was going through depression… and my colleagues at work hated my guts. Fast forward 10 years later and my existence has definition and purpose… I have the most wonderful woman on earth beside me.'
From my understanding, your purpose centers on marriage, and on ministries and religion. I will address the second aspect in another piece, for now I want us to look at the marital aspect.
"Daddy Freeze, apart from the big guy in radio you befriended as a stepping stone to your entry, I can say we your colleagues loved you! You want to forget that guy, the oldest bachelor in entertainment; he never cared whether you or anyone else did well or not. You have towered way above others, you have become a household name. In life, some people will definitely be jealous of another person's rise, but largely I can say we all love you to bits. I'm saddened that yours was a horrible marriage. Right here I must tell you though, I am disappointed at the behaviour of the both of you; fighting physically in the presence of the your innocent, beautiful children! Haba.
"Sorry, but this falls on you most especially, because if you "slap back", you are stronger and will do the weaker great harm, and grievous bodily injury. The greater onus is on you to control your temper. It is a pity that our legal system can find a 'marked' man guilty and dispense with his case in record time, as far as he is hated by the government. But for a land issue, family issue or divorce case, that will drag on endlessly often to the detriment of 2 young people who only want to find happiness and move on with their lives! For the record, Moses and Jesus acknowledged divorce, Jesus only let us know that 'from the beginning it was not so.'
"However, for a man with a calling into a ministry, there is a need for you to keep on the right side of the law (NOT on the right side of the society). Doing otherwise, will only give bite to naysayers (the Pharisees and Sad-To-Sees). Now that you have found happiness and love, I am truly happy that you are now happy. But I feel I should let you know that I wish you would live apart temporarily, pending when the lady obtains LEGAL SEPARATION from her husband.
"Note that it is only the mother of your children you are separated from. Do everything you can to be involved in the lives of your estranged children including seeking legal means to have access to them. Financially too, be fully involved, if at all you are not. The former CNN news anchor and presenter Isha Sesay started dating Leif Coorlim, Executive Editor of CNN Freedom Project in 2008 (she joined CNN in 2005). In 2013, they got married in a grand ceremony. In 2018, Isha Sesay announced in an online magazine that they were divorced. She also announced on social media that she had quit her job at CNN (a book she's writing on the Chibok Girls is due to be presented this May 2019).
"So what am I trying to say here? A beautiful media personality, just like you got married and divorced. But it was without all the drama being thrown out there, by either of the too. I vividly remember when we had an African American Presenter at Cool Fm whose love life was a daily drama. He was also a kiss-and-tell person, no keeping 'nothing' to himself! It was you Daddy Freeze who always used to tell us- 'Americans no get Family Secret'. 'These folks have no shame!' – Remember?"