Edo-born LASU's best graduating student gets automatic employment from Obaseki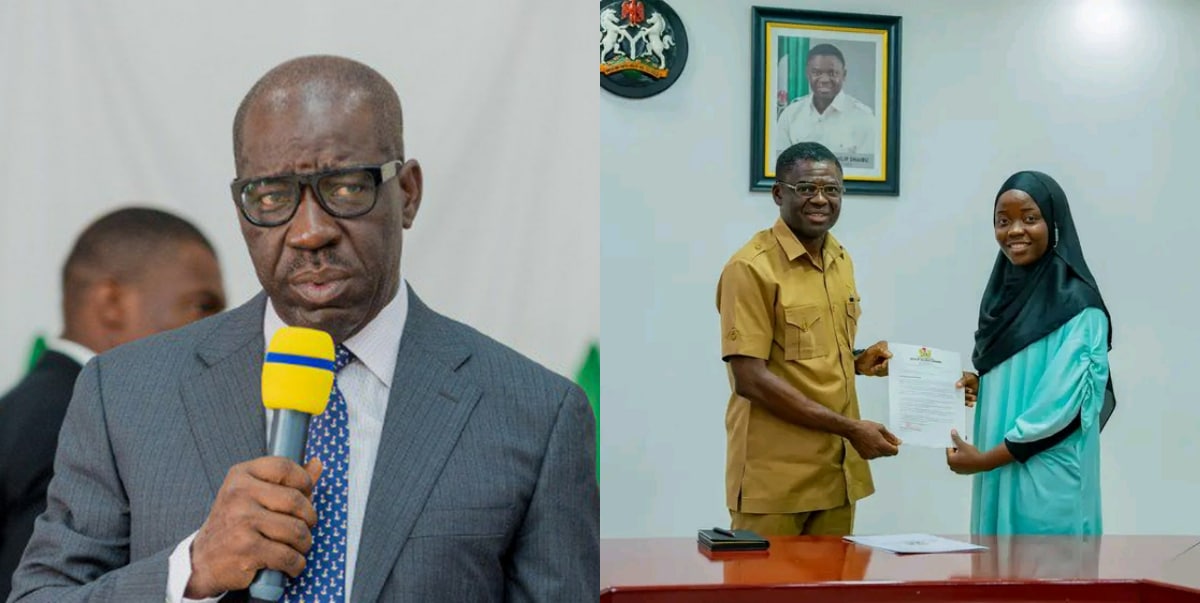 First Class Law graduate, at the Lagos State University (LASU), Miss. Yusuf Aminat, who hails from Edo State, has been offered automatic employment in the State's public service by the Governor, Godwin Obaseki.
GistReel reports that Yusuf emerged as the best-ever graduate at LASU with a 5.0 Cumulative Grade Point Average (CGPA) in the institution's Law Degree Programme.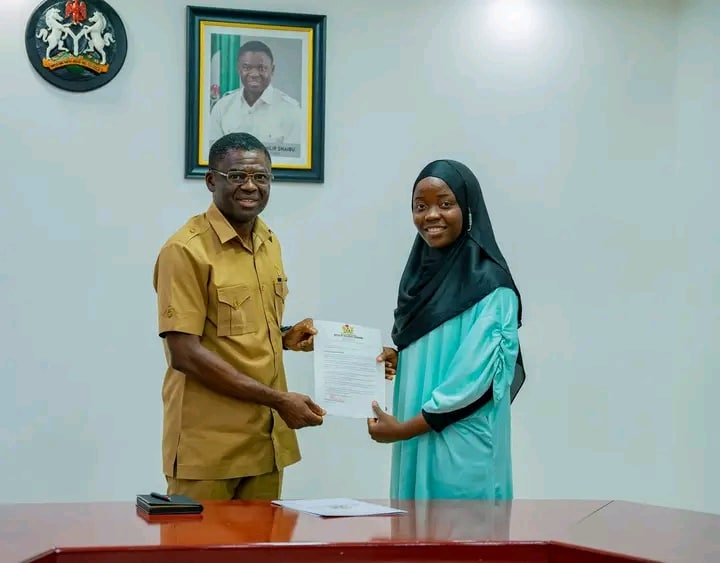 The governor's offer was conveyed by the Head of Service, Anthony Okungbowa Esq. where he said "Beyond merely congratulating her, we have offered automatic employment to her. Indeed, we have reached out to her parents and spoken with them. They have accepted our offer of employment."
The Deputy Governor of the state, Rt Hon Philip Shaibu had earlier hosted Aminat and her parents in his office where he said she is a role model to young Nigerians who have demonstrated their desire to take back Nigeria into their hands.
Shaibu said "You have given hope to that child that thinks all is lost. Nigeria is in dire need of role models, role models are lacking in our system and the last elections showed that the young people are ready to take their destiny in their hands, people like you will have to play a role to motivate them."
The Dean of the Law Faculty in LASU, Professor Kareem Olatoye who was represented by Obadan Abudu who is a lecturer in the University said she is very hard working and always in the library.
To her father, Ibrahim Yusuf, Aminat has always shown the tendency to be bright and while appreciating the state government for the offer advocated the return of bursary for students.
"In the past, there used to be a policy of bursary for Edo Students studying anywhere in the country, I think this is the time for the government to give that a thought again because I know what we passed through for her to study Law."
Responding, Amina said she is a proud Edo person and was always ready to give back to her homeland.
She said "I have always been very passionate about reading law and the fact that women of today now have more opportunities than our mothers had I wanted to also show that to a full extent when given the opportunity we will excel and with God's support and my parent's support;
"I have been able to do that and the goal is to excel beyond my imagination I intend to go as far as my imagination can take me and I am passionate about my state."