Dog Bags Honorary Doctorate Degree In Veterinary Medicine (Video)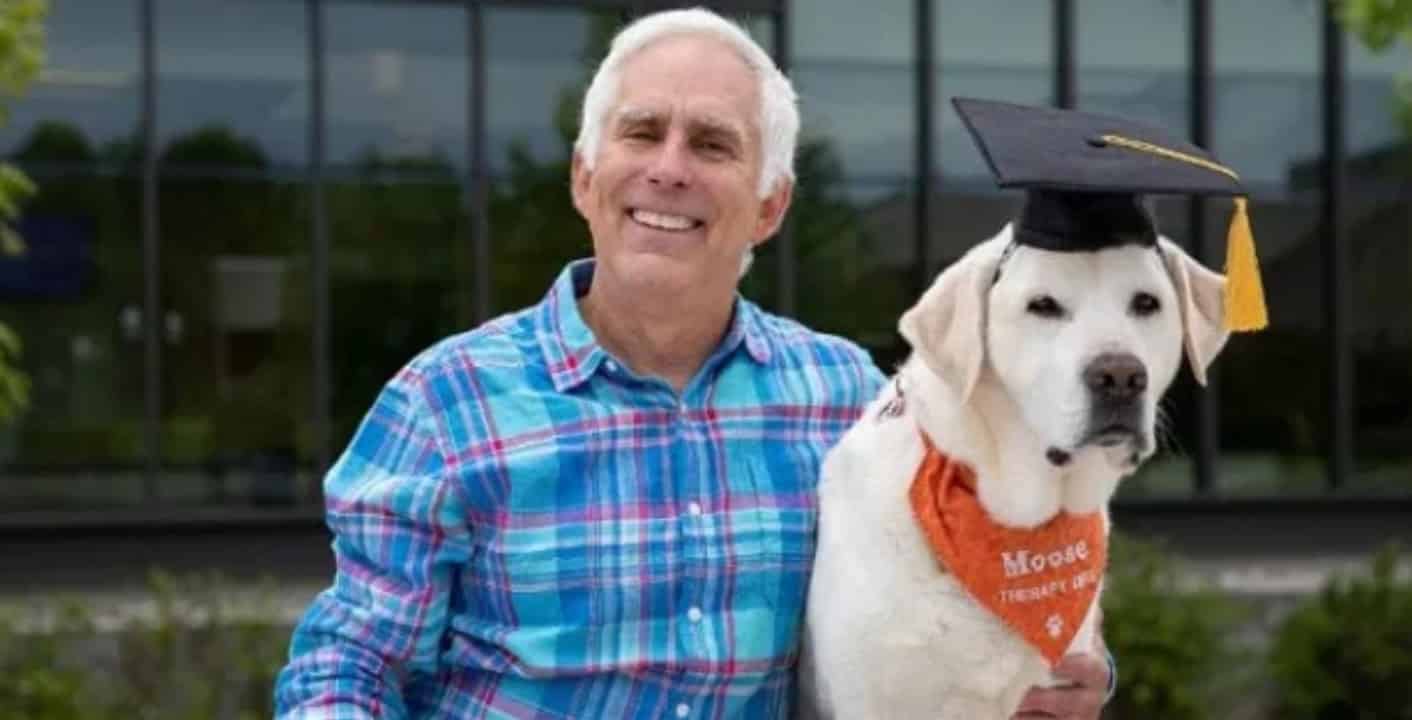 A therapy dog named Moose has bagged an honorary degree in Veterinary Medicine at the Virginia Tech's College of Veterinary Medicine, class of 2020.
As a tradition in most universities, when graduation ceremonies are celebrated, honorary degrees are given to deserving individuals.
This year's graduation at the Virginia Tech's College of Veterinary Medicine was unique and different as a very good boy, Moose was enlisted among intellectuals who were honored.
According CNN's report, Moose has been with Virginia Tech since 2014, and is one of the school's four therapy animals and ambassadors for mental health awareness.
Moose helps students cope with anxiety, trauma and other mental health issues. He has also helped thousands of students and assisted in more than 7,500 counseling sessions, according to his owner, licensed counselor Trent Davis.
Davis launched the school's animal-assisted therapy program to help provide students with another form of comfort.
"Some humans haven't had the best experience with other humans, or even other dogs. In both those cases, Moose provides a very safe and comforting force in the room," Davis reportedly told CNN.
"These students see Moose as someone who's going to accept them. They don't worry about him judging them" he continued.
While the
Covid-19
inspired pandemic has made it difficult for students to visit Moose and the other dogs for therapy sessions, Davis said the center now offers regular open office hours virtually, for one hour three days a week.
Four of the school's therapy dogs are beloved by the student body, but Moose, who had received Virginia Veterinary Medical Association's Animal Hero Award in 2019, is quite special.
"The students here talk a lot about how Moose has broken down the stigma around mental health care on campus," Davis reportedly said.
"Veterinarians unfortunately have high rates of suicide, and this profession can be quite disturbing. He has really helped the students and staff at Virginia Tech and has gotten a lot of recognition for that." Davis revealed.
He recalled how Moose was diagnosed with prostate cancer and underwent radiation treatments.
The dog owner revealed that regardless of Moose currently undergoing treatment, he has remained his usual happy self.
Congratulations are already in place for the 8-year-old Dr. Moose.
Watch Video below:
Source: CNN