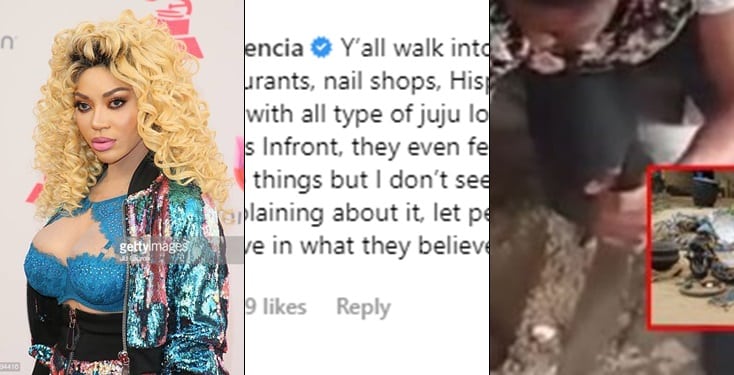 Singer Dencia has come to the defense of the Nigerian carpenter caught burying charms in his workshop so as to attract customers.
Going onTwitter, Dencia revealed that the man should be left alone because what he's done is no different from what Asians and Hispanics do openly and are not questioned.
She tweeted:
Y'all walk into Asian restaurants, nail shops, Hispanic ones with all type of juju looking things in front. They even feed these things but I don't see y'all complaining about it. Let people believe in what they believe.
Her post was in reaction to @seyithefirst who tweeted in defence of the carpenter.
He wrote:
This is a carpenter who, according to the news, was caught with "charms" buried in his own shop.
I have a few questions. You're not obliged to answer, but these are questions I had in my head when I saw this video.
1) has he committed any crime by doing this?
2) if his intentions were to attract customers to his shop or business, what is the difference between what he has done and someone who mounts a rosary or an image of a God on his wall to attract and hope and pray for his or her business to grow and attract customers?
3) what's the difference between what the carpenter did and those who use anointed handkerchiefs to cure ailments, raise the dead, heal the sick and hope to prosper?
4) if this carpenter believes that this "charm" will make his enemies fall and die, what is the difference between his belief and those who hold on to their religious books or symbols and they pray for their enemies to fall and die?
6) if you sue this carpenter to any court of competent jurisdiction, for allegedly possessing charms, will you successfully get a conviction?
As you ponder over this tweet, please remove any form of sentiment, and let's start questioning the reasons why some things we do in Africa are demonized and we worship the foreign ones. When in actual sense, they have obvious similarities.
Crdt: truth_in_your_face