Chats leak as Mohbad's wife speaks on relationship with Naira Marley, Sam Larry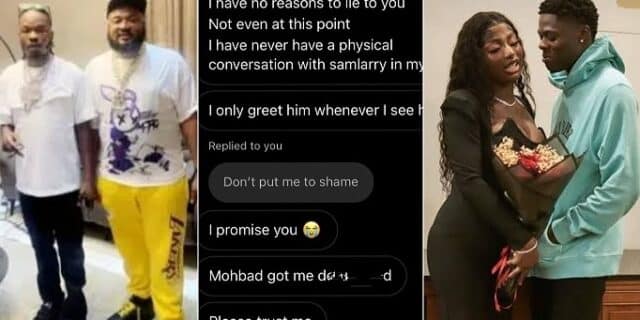 Leaked chats have been shared online as Mohbad's wife Omawumi speaks on her relationship with Naira Marley and Sam Larry.
In an exclusive statement, MohBad's wife addressed the ongoing rumors of an affair with Sam Larry.
She firmly denied having any physical conversations with him, emphasizing that their interactions have been limited to greetings whenever they cross paths.
The wife asserted that the rumours are baseless and aimed to set the record straight regarding her relationship with Sam Larry.
MohBad's wife further revealed a troubling history of bullying by Kemi Olunloyo towards her husband.
She claimed that Olunloyo consistently targeted MohBad during his time in the public eye.
Moreover, the wife alleged a connection between Olunloyo and Naira Marley, stating that they had been in contact before.
This revelation shed light on a potential motive behind the bullying and raised questions about the dynamics within the music industry.
Adding another layer to the story, MohBad's wife disclosed that Naira Marley had shown dislike towards her at some point during MohBad's association with him.
She said; "I have never have a physical conversation with samlarry in my life.
I only greet him whenever I see him. Naira marley has been in contact with kemi olunloyo before
"She has always bully Mohbad when he was alive. She has a relationship with naira marley. And Naira marley disliked me at some point when Mohbad was with him."
While the exact reasons for this animosity remained unclear, it highlighted potential tensions within the music circle.
The wife's revelation added a new dimension to the narrative, leaving fans and followers curious about the dynamics between Naira Marley and MohBad's wife.
See the post below: