Blessing Okoro arrested by Billionaire Onye Eze, the owner of the house she claimed belongs to her, few days ago.
She was captured in a video, handcuffed.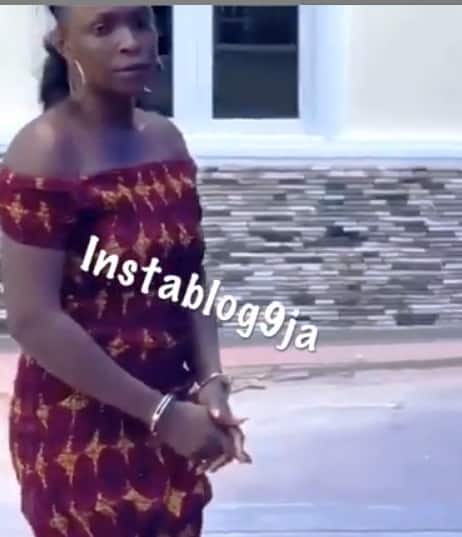 https://www.instagram.com/p/Bx-AOjgHLeW/
This is coming just a day after she confessed that she posted the photo of the house for clout and a motivation to herself.
She had earlier claimed ownership of the house, but was busted by the real owner of the house who called her out on social media.
She summoned courage to confess that it was all a stunt.
In an audio released she admitted that she begged the gate keeper of the house to allow her take pictures in front of it. She also revealed that she has spoken to the owner of the house to calm him down.
When she initially posted the photo and claimed ownership of the mansion, Blessing Okoro wrote:
8years ago my ex husband threw me out of his 1 bedroom apartment.
8years later I built myself a 7 bedroom duplex….
I picked up all the stones he threw at me to build myself
I became too strong and fortified.
I became that broken pieces that because an expert in mending .
Yes dreams do come true .
My name is Okoro Blessing Nkiruka
23rd May 1989 I was born .
I am 30 years today .
I am that blessing you hear about
A child of grace
Happy birthday to me