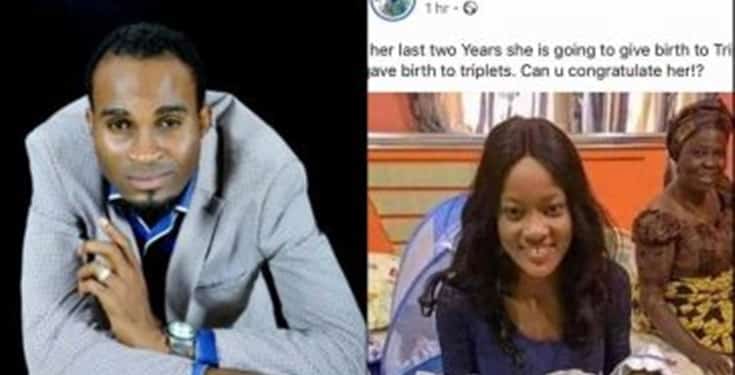 A pastor has been called out by a beauty queen Jane Ali after he used the picture of her cousin for a fake testimony which he shared.
The Pastor identified as Kassy Chukwu Oritsejafor had claimed that he told the woman she will give birth to triplets which came to pass.
He wrote on Facebook;
"I told her last two years that she was going to give birth to triplets and she did, can u congratulate her.
Exposing the pastor as fraud, @donaccapela revealed that the photo was shared by a friend.
"So this pastor felt he needed to fool his followers to validate himself. So i have an Instagram friend @queen_jane_ali. Whom her aunt just gave birth to triplets so she decided to celebrate on instagram . Only for one fake pastor to carry her picture to his status and saying, i quote "i told her last two years, she is going to give birth to triplets. She gave birth to triplets. Etc" this pastor Kassy Chukwu Oritsejafor check his status at the moment on Facebook you will see. Imagine i am a baby Christian now and i see this. God would have lost a soldier!!! It is well. And he is busy celebrating it on his status."
The beauty queen Jane Ali also called out the Pastor for stealing the photo of her cousins for his fake testimony. She wrote:
"Fake Pastor!!! I don't know you!!! I've never met you!!! Mind you those kids are my little cousins!!! May God forgive you sir