Housemate Queen has celebrated her survival in the recent eviction night especially after her opponent, Maria was evicted.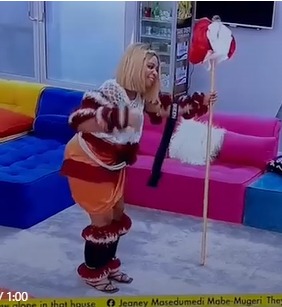 Early it was reported that JMk, Maria, and Sammie were evicted and it came as a rude shock to viewers that Queen was saved but Maria evicted.
However, reacting to this, Queen broke into a victory dance in her traditional custom attire and declared that her confidence is at its highest, seemingly after seeing Maria leave.
While celebrating, she said;
"Thank you, Africa, Thank you Nigeria, thank you Akwa Ibom, your girl is grateful. I don't know what to say, but right now my confidence is 100".