BBNaija
#BBNaija Day 54: Nengi to study in UK, Dorathy sends Laycon packing, housemates to party with Ice Prince and DJ Xclusive, lots more…
Read and watch all interesting highlights from #BBNaija Day 54: Nengi to study in UK, Neo says he's a submissive guy, housemates to party with Ice Prince and DJ Xclusive, lots more.
Day 54: Pack and go!
It was all shades of jokes and fun as Dorathy and Prince sent Laycon packing from their room last night, following his agreement to move in with Kiddwaya.
Day 54: Why is there wahala?
Nengi and Vee have been engaged in a cold war and Ozo shares why Vee has a bone to pick with Nengi. Nengi isn't taking the issue as seriously as he wants her to.
Day 54: 'Ozo will pay' – Kiddwaya
Nengi and Kiddwaya get to discussing further her studies in the United Kingdom. Then when it's time to discuss how to sort the fee's, Kiddwaya suggests that Ozo should foot the bill.
Day 54: 'I could be totally submissive' – Neo
Neo professes his undying feelings for Neo as she reiterates that they will see outside the House.
Day 54: Better As A Team

We take a look at the times the Housemates came through for each other to give us the best examples of teamwork in the House, proving that we are better together! Teamwork has helped many Housemates get far into the Big Brother Naija Lockdown House so far, we take a look at some occasions you loved too.
Day 54: Trikytee's Lucky Week
After successfully completing his Task as a customer care agent in this week's Patricia Challenge, his team – Team Here for You, won this round and Trikytee, Neo and Kiddwaya were rewarded with one thousand Dollars' worth of Bitcoins. He has sure won a lot of money and Task treats from these Challenges. We stan! Who no like better thing?
Watch this Task here
Will Trikytee be able to complete his lucky week as Head of House by winning this week's Wager Challenge and Showmax Talent Show for the House? We'll find out.
Day 54: Team Black wins eighth Sports Trivia
Here's how the eighth edition of the Betway Sports Trivia went down.
Similar to last week, today's winners will receive something called the Betway Boost. As they were told earlier, the Betway Boost is a special gift that boosts their current wallet. This means their Betway wallet will be credited with 25 BB Naira for each member of the winning team.
Immediately after reading the brief,the Housemates were required to divide themselves into two teams. As always, each team must have both male and female members. Here's how the Head of House (for Team White) and the Deputy (for Team Black) selected their teammates.
Team White – Trikytee, Kiddwaya, Dorathy, Prince, Nengi.
Team Black – Laycon, Ozo, Vee, Neo.
Game on..!
As usual, a board with numbered cards were placed in the Garden for the Sports Trivia. In total, there were 30 questions and the answer to each question was written directly under the cards bearing the questions. Each group had the opportunity to answer 15 questions each.
To play, each group had to take turns in nominating one person at a time. The nominated Housemate then proceeded to the board to pick a card. After asking the question, the other group had to answer. After they had provided their answer, the person who asked the question had to confirm whether they were correct or not. Whatever answer was provided was final and could not be changed. A scoreboard and chalks were given for the purpose of this game.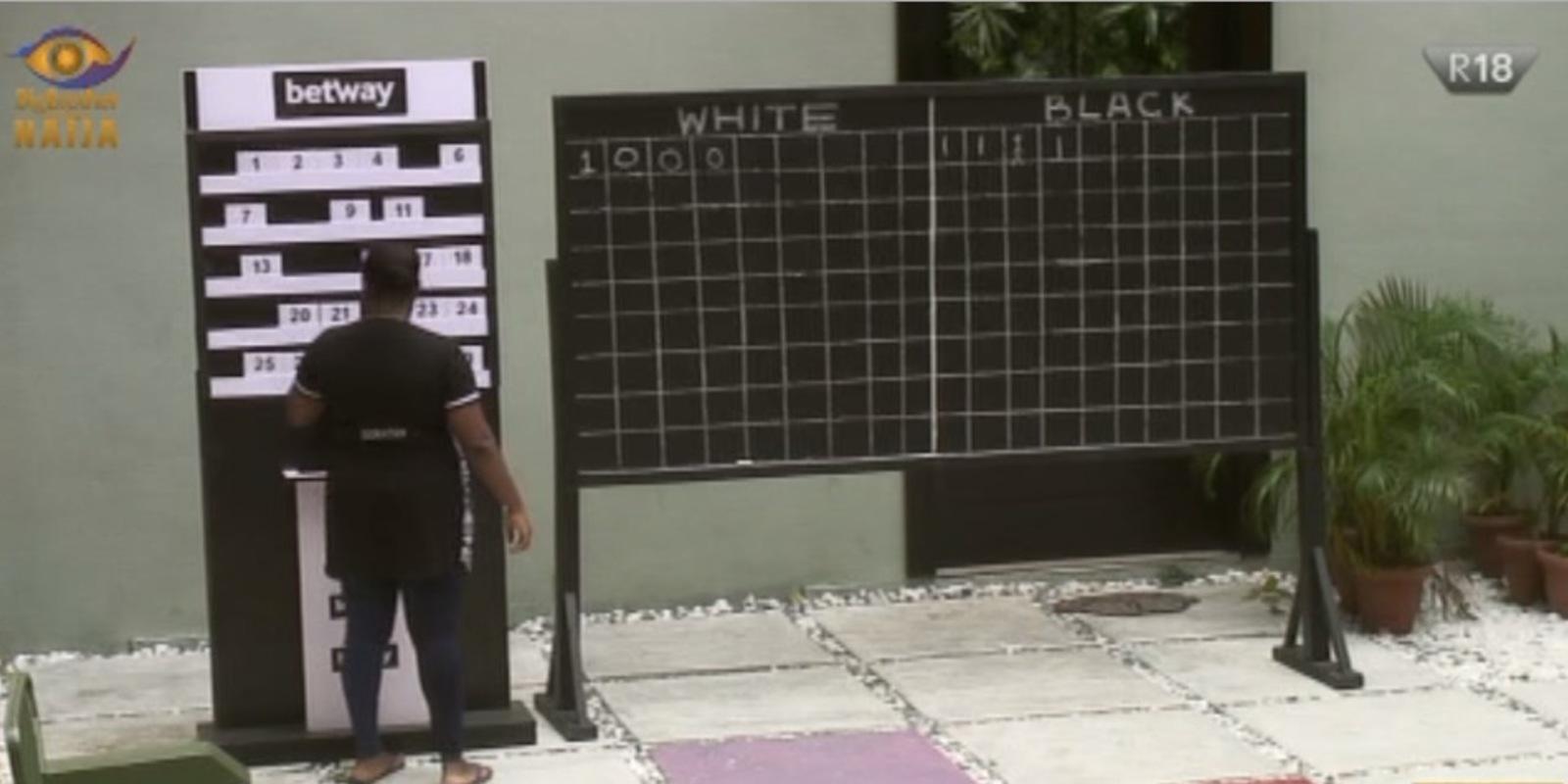 Congratulations Team Black!
For every question answered correctly, the team scored a point. All answers were to be collated at the end of the game. The team who scored the highest points became the winner and for this week's Sports Trivia, Team Black emerged victorious.
Day 54: Roll credits
Done with their Showmax talent show, the Housemates gave each other credit for a job well done and also took shots at Team Suits for what Vee considers a questionable performance.
News Credit – Africa Magic