It is no longer news that Infinix has unveiled the HOT 12, a new smartphone that blends long battery life with an entertaining design. 6.82″ 90Hz Pro-level gaming screen with an Helio G85 processor greater refreshing rate for electronic sports pleasure. With 5000mAh battery capability, an 18W rapid recharge, and the renowned Dar-link game optimization engine, you can play for hours. The straight-edge design of the Infinix HOT series mobile phone reflects light and thin scientific and technology aesthetics.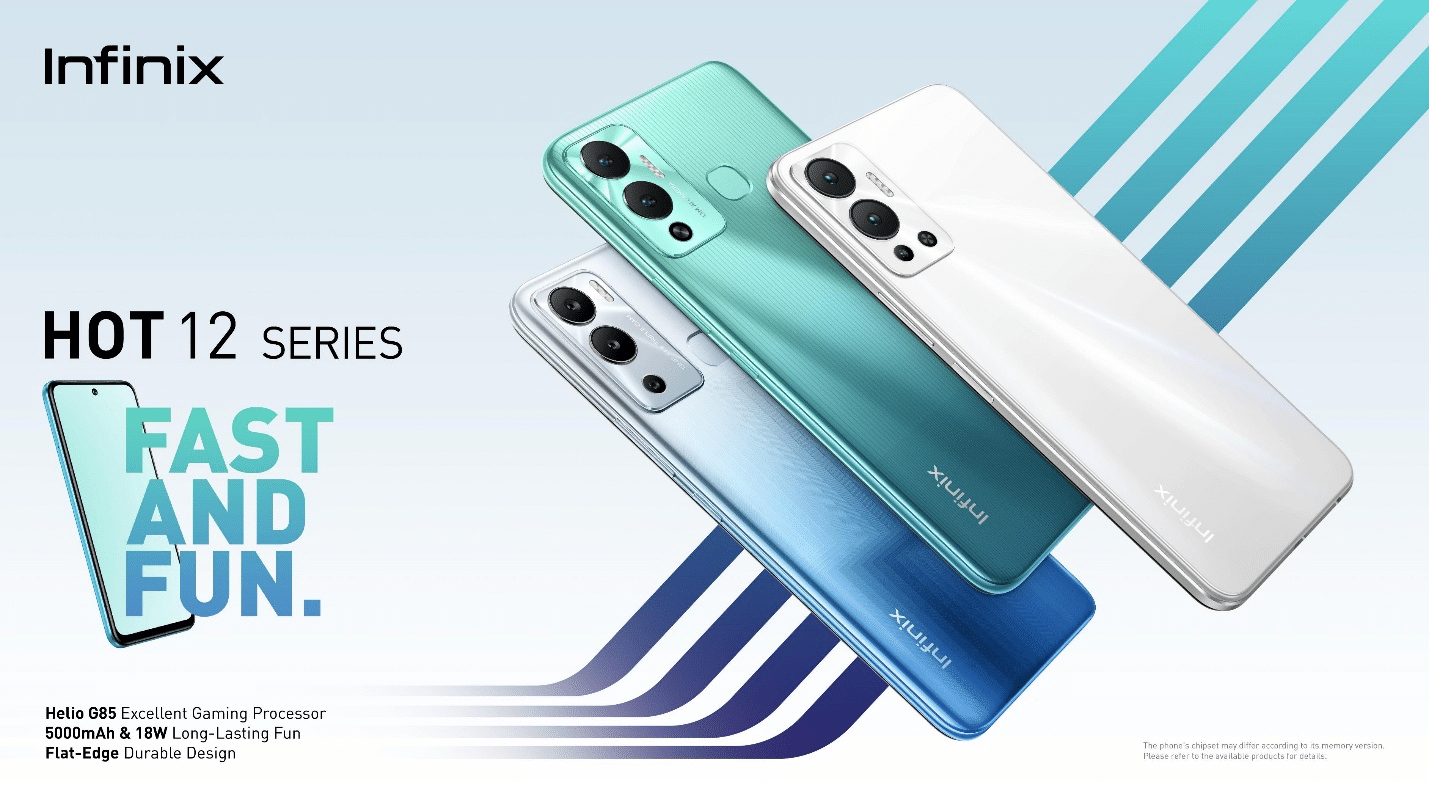 "We are continuously committed to designing intelligent smartphones with excellent performance and trendy aesthetics for young consumers, and we will constantly bring the latest, best, and most cost-effective products to users. The Infinix HOT 12 has achieved a breakthrough in improved performance, ultra-long endurance, and trendy aesthetics, which allows young people around the world to express themselves through their smartphones", according to the Infinix products manager, Eric Zheng.
A Blazing-Fast Chipset
The Infinix HOT 12's MediaTek G85 gaming chipset helps it to run demanding games at higher frame rates, resulting in faster response times and communication. The G85 gaming chipset uses two ARM Cortex-A75 cores running at 2 GHz and six ARM Cortex-A55 cores running at 1.8 GHz. Heterogeneous multiprocessing allows all eight cores to be used. The combination of these crucial characteristics allows HOT 12's greatest games to operate in spectacular resolution.
Power All Day Long
The Infinix HOT 12's 5000mAh battery, fast charging, and ultra power mode give smooth performance and quickly recharges. Customers may use their smartphones all day long with a 5000mAh "Big Mac" high-density and large-capacity battery. The Type-C interface18W supercharge with a 50% power increase duration of under 50 minutes helps players to focus more on their games and play longer.
One-click on the Infinix HOT 12 boosts battery life by around 25%. Ultra Power Mode boosts battery life by 2.6 hours even when only 5% of the device's power remains.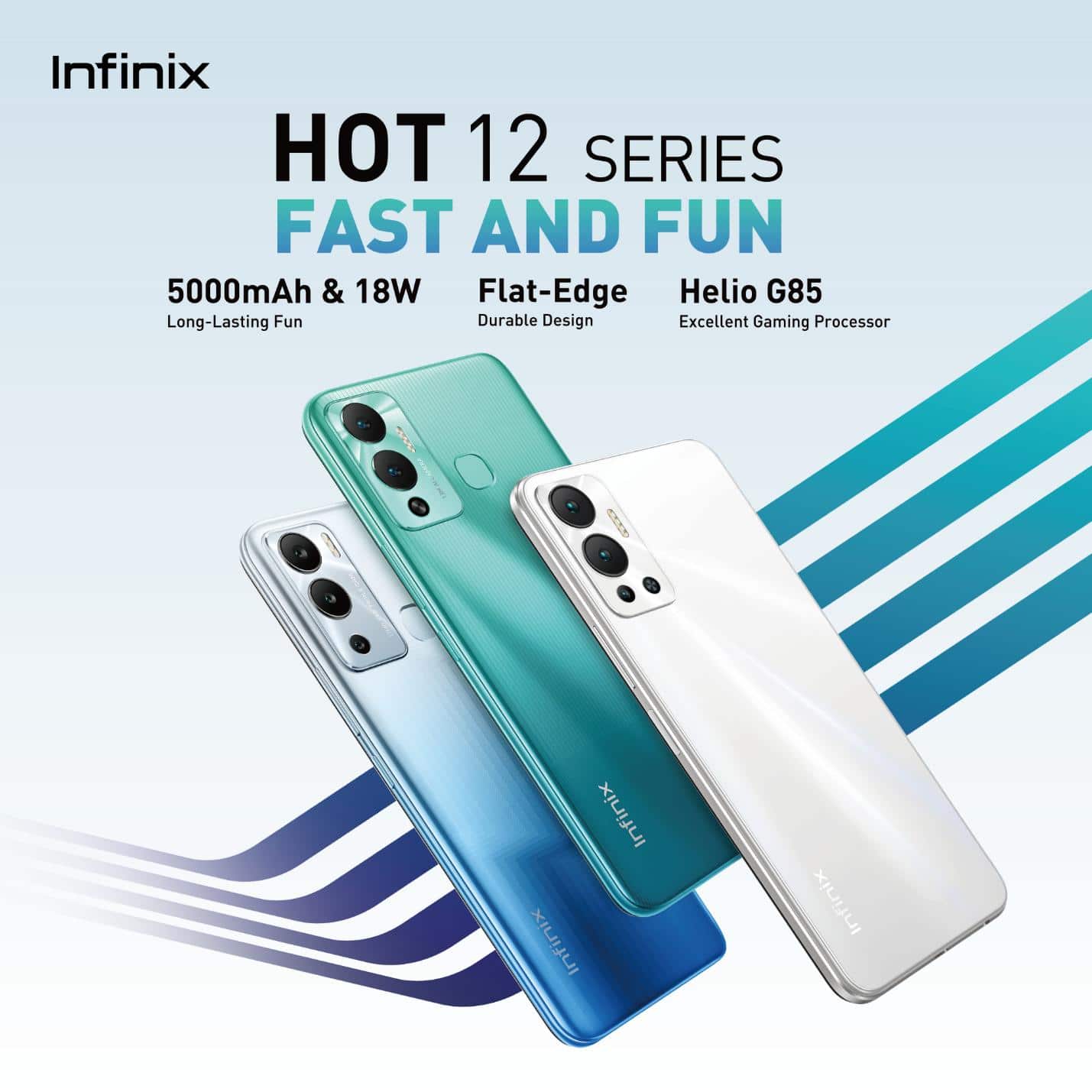 Packed With Memory
The HOT 12's 128GB+6GB memory and RAM allow users to run many demanding programs seamlessly and efficiently. Gamers using newer gadgets should expect smooth frame rates and lightning-fast speeds, giving them a major advantage.
The Infinix HOT 12 phones support 5GB RAM extension up to 11GB of combined RAM, increasing the amount of background cached apps from three to nine and decreasing the average launch time of TOP20 applications by 10% to 50%. The extra RAM gives the users the strength they need in a variety of situations, providing for a faultless smartphone experience.
Trendy Eye-catching Design
The Infinix HOT 12 has a sleek flat-edged appearance that will appeal to smartphone users. As a result of the straight-edge design, the device seems 3mm slimmer. The angular facade is coupled with flowing light and shadow for a dramatic and bold image. Colors include Racing Black, Legend White, and Origin Blue to appeal to today's youngsters.
Pro-level esports display with a 90Hz refresh rate for optimum performance. The HOT 12's 180Hz touch sampling rate makes it appropriate for smartphone gaming and other resource-intensive activities.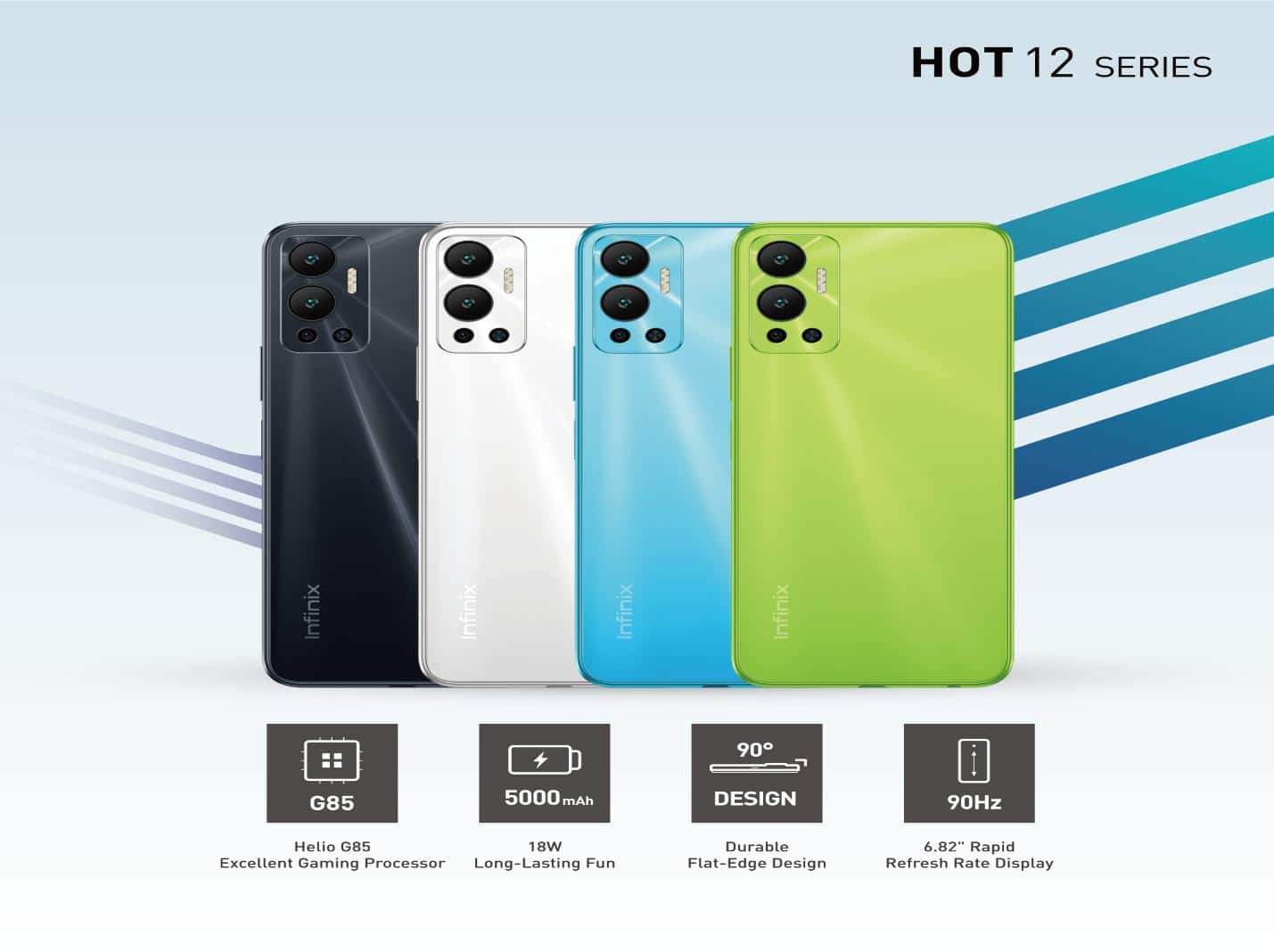 Rich Immersive Sound
Upgraded twin upper and lower speakers deliver immersive audio with deep lows, clear mids, and rich high-frequency detail. Music, internet movies, and fast-paced games with audible footfall provide gamers an advantage while another player is looking for them.
The Infinix HOT 12 has a great camera and a simple user interface. In every snap, HOT 12's 8MP AI front camera and sophisticated picture algorithm enable the greatest AI portrait. The XOS 10 operating system redefines style with Smart Scene, a beautiful chromatic aberration, and programs for a smarter life. The app's built-in XArena enhances gaming by combining smartphone game apps into one spot and allows game boosters to improve performance. Messages and phone calls can be put on hold while gaming to focus. With Dar-game Link's optimization technology, it gives a unique gaming experience.
More info at http://www.infinixmobility.com/ng.