"Alaafin of Oyo prayed for Tinubu to be president on his deathbed" — Monarch's son
The late Alaafin of Oyo, Oba Lamidi Olayiwola Adeyemi III expressed his desire for Asiwaju Bola Tinubu to become the next Nigerian president on his deathbed, according to his son.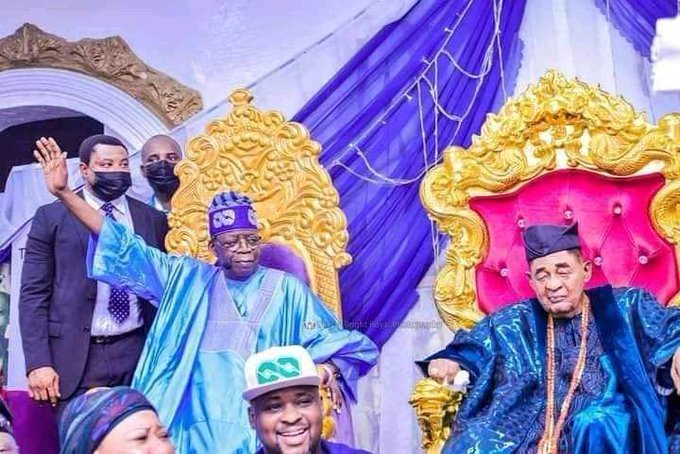 The monarch died on April 22, 2023, after a brief illness at the Afe Babalola University Teaching Hospital in Ado Ekiti, Ekiti State capital.
A year after his passing, his son Akeem Adeyemi shares their conversation, in which the Alaafin emphasized his wish for a Yoruba presidency and specifically supported Tinubu for the role.
Akeem made this known in an interview with The Punch.
"You won't believe it but the last thing he said to me was, "Skimeh, bawo ni oro oga yin o?'' He asked me how my boss's ambition was progressing. He told me that Asiwaju Tinubu must become Nigeria's President and I told him to rest, and that was the last thing we spoke about before he died," the monarch's son said.
According to Akeem, who is a member of the Federal House of Representatives, the late Alaafin's last visitor before his passing was Tinubu, and the traditional ruler had also visited 27 Yoruba monarchs to discuss the prospect of Tinubu becoming president.
Akeem stated that Alaafin prayed for Tinubu's success and urged the people of Oyo and Yorubaland to support him wholeheartedly.
"I'm telling you this now. Many people will read this interview. Kabiyesi visited more than 27 Obas in their palaces to talk about Asiwaju's emergence as Nigeria's next President. He met Akirun of blessed memory.
"He met Awujale. The last Oba that visited Kabiyesi before he died was Oluwo of Iwo, and the discussion was about Asiwaju Bola Ahmed Tinubu," he added.
"His last wish was to see the next President of Nigeria as a Yoruba man and not just any Yoruba man; he was particular about Asiwaju Bola Ahmed Tinubu being President.
He continued;
"He saw Asiwaju as a discoverer of talents, someone who'll lay the foundation to build on, someone who will not only demonstrate good governance and put Nigeria on the path of progress and development but also as someone who knows that there's no success without a good successor.
"He said, "Prince, the reason why I want that man(Tinubu) is that it's not about his term as President. Asiwaju will let you know that as good as you might rate his tenure, there's no success without a good successor.
"He'll ensure after he might have completed his tenure, that he gives you a good successor. You can imagine what will become of Nigeria in that kind of situation." Thankfully, that wish has come to pass."