Entertainment News
After calling Seyi Tinubu out, Nigerians dig out old tweet of CDQ praising him as "a good man"
Nigerians have taken to Twitter to dig out old tweet of CDQ praising Seyi Tinubu as "a good man" after the rapper dragged same Seyi Tinubu for disrespecting him earlier today.
Recall Nigerian rapper, CDQ took to social media and called out Seyi Tinubu for disrespecting him at a certain David's house.
The rapper in a series of tweets accused the CEO and Founder of Loatsad Promo media for disrespecting him at a gathering. He, however, did not state specifically what the issue is, but vowed not to overlook it.
CDQ further reminded the businessman that he is not a politician nor affiliated to one hence he would make Seyi Tinubu pay for his actions.
The rapper wrote, "Seyi Tinubu I'm bouta compose an article for you about what you did to me last night @ David's house. I might not be born with silver spoon like you but bruh I'm a fighter and a strong hustler that germinated from the slum to where I am today.
"I won't take disrespect from anyone. If u have been doing this to people around u before this will be d last time… cos I no be artist wey Dey pursue politician for money… anything I do with people I do it for love. I hustle hard for everything I am today.
"I've always been a free spirit, good vibe n neutral person from day° irrespective of where I am or who I'm with… so I'm the least person u should mess up it… cos things don't get to me easily. But when it hit it hits hard 'a' so I'm never going to let this slide Seyi." He said.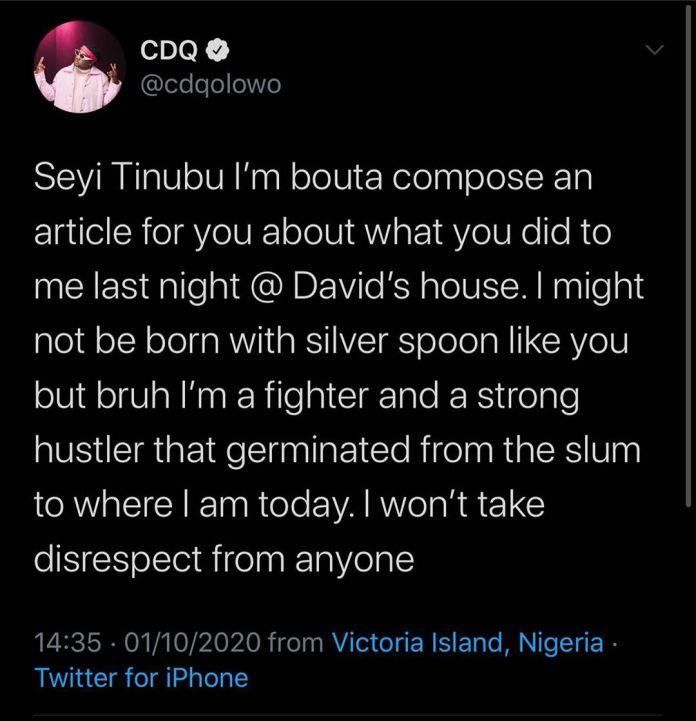 However, Nigerians have now dug out an old tweet of CDQ praising same man he's now dragging, wondering what could have made an old friendship turn sour.
See old tweet shared in 2018 by CDQ as dug out by a Twitter user below;