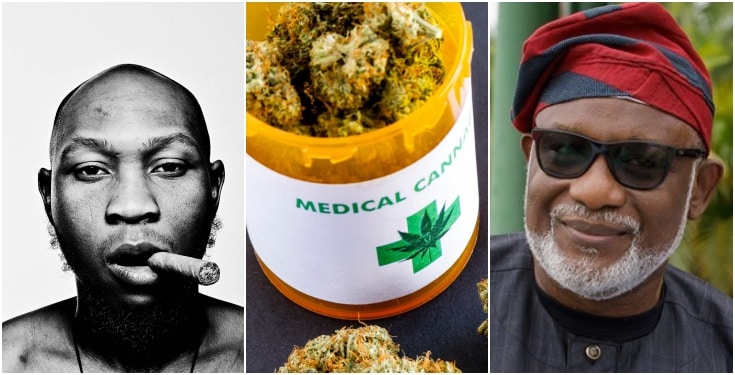 Grammy-nominated Afrobeats musician, Seun Kuti, like many other Nigerians has reacted to Ondo State Governor, Rotimi Akeredolu's move as he considers growing Marijuana for commercial purpose in the state.
The state governor who is currently in Thailand to understudy the process, got alot of Nigerians excited when he announed his plans for marijuana on social media yesterday.
Seun Kuti in his reaction said, 'ehn Mr excellency sir, if u want me to move to your state, just say so. This beating about the bush is unnecessary. Afrobeat is about to switch home base y'all. Just imagine one good joint for my back ache then better Ondo pounded yam to heal my stomach pain'.
The Ondo State Governor, Mr Rotimi Akeredolu, has expressed the need for the Federal Government to encourage the cultivation of medicinal cannabis, also known as Indian hemp, in the country.
Akeredolu, who described Ondo State as a hotbed of cannabis cultivation in Nigeria, urged the Federal Government to support the growing of medicinal cannabis in large quantity in the state, saying its (cannabis) industry was capable of creating thousands of jobs for youths and spur the economic diversification of the country.
He made the request on his twitter handle on Tuesday while commenting on his recent mission to Thailand. The governor said he was in Thailand in company with the Chairman of the National Drug Law Enforcement Agency, Col. Muhammad Mustapha (retd), for a programme tagged, 'Medicinal Cannabis Extract Development.'
According to him, Nigeria might be shortchanged with an estimated value of $145bn in 2025 if it failed to tap into the legal marijuana market, explaining that their visit to Thailand was to assess the materials and best practices (of medicinal cannabis planting and growing) with the possibility of replicating them in Nigeria.
He said, "We are here to study how cannabis can be of more advantageous to the state and Nigeria, at large just the way Thai Government has done. Cannabis is used for medical purposes; how can it be cultivated for specific purposes and not be abused.
"The programme is centred on exploiting the possibility of medicinal cannabis extract development and it is aimed at building capacity and researching the modality of licensing for planting and extracting cannabis oil in Nigeria as well as exploiting its commercial potential with focus on Ondo State.
"We know how to grow it and it thrives well in the Sunshine State. How to grow cannabis is never a problem in Ondo State."