Adorable moment baby listens carefully as father warns about her cries (Video)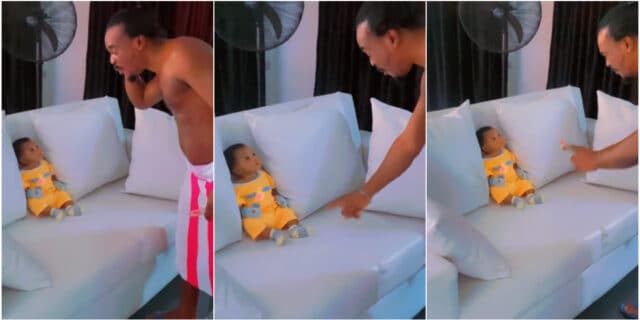 A Nigerian man with TikTok handle @princekubas1 captured the undivided attention of his newborn baby as he delivered a stern yet amusing warning against incessant crying.
The video, which has been shared thousands of times and elicited fits of laughter from viewers, depicts the father engaging in some light-hearted parenting with his toddler.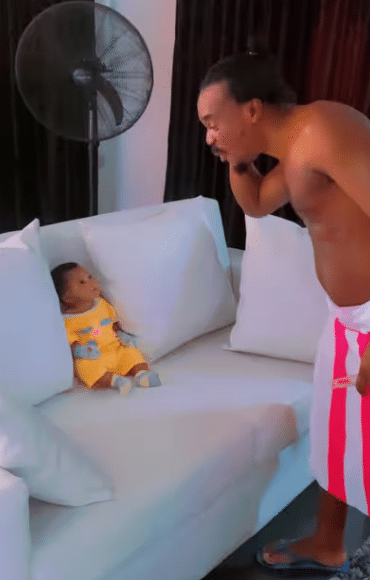 Supported by two pillows on a chair, the baby looked up at her father with unwavering attention, almost as if she understood the gravity of the situation.
In the father's words;
"I don't even know what is making you cry. I'm not joking. I'm talking, don't talk."
The baby, perhaps sensing the gravity of the situation, listened attentively and even appeared to mimic her father's seriousness.
In a particularly amusing moment, the father pulled his own ear to emphasize the importance of not crying.
He playfully complained that the baby was continually disturbing their compound, a situation many parents can relate to.
The video quickly gained popularity on TikTok, garnering thousands of likes, shares, and comments from entertained users.
Many Nigerians, in particular, were charmed by the baby's surprisingly composed reaction to her father's hilarious lecture.
Netizens Reactions…
@Priceless said; "This is me paying attention to advice I won't work with."
@Ben said; "Why she wear gloves? Na future Onana."
@TheEbunes said; "Just get her own apartment."
@faithsunday3929 said; "In her mind she will be like wetin dis man dey talk sef him go explain tire no evidence."
@FIELDING_JR said; "Baby be like what's this man's problem."
@goddess said; "The baby is just looking at you like is this man ok."
@Horlabhiziomologbalogba said; "See as the baby serious she only blink her eye once."
@user310874429235 said; "Omo the baby is very serious listening to the talking father." 
See below;